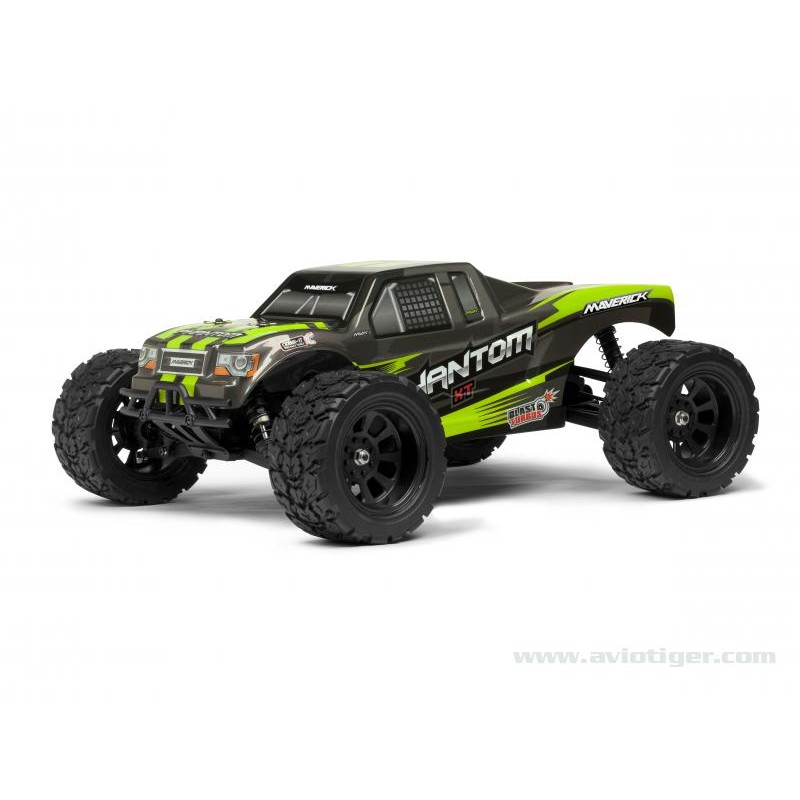  
PHANTOM XT Maverick 1/10 RTR PG Modélisme
The Maverick range is developed by HPI to meet the needs of novice drivers who want to have a vehicle, resistant, easy to drive and with an attractive look.

The Phantom XT comes with an electric coal motor with high torque the MM-550. The 4x4 transmission uses very strong steel cardans. This model is equipped with a waterproof dimmer, a water-resistant servo and a gear protection cover.

Everything you need to make your Phantom XT operational is included in the box with a 7.2V 1800mAh Nimh battery and a super convenient Delta-Peak USB charger! This means that you can charge the battery of your RC car with virtually any mobile phone wall charger!
Key features:
- Monster Truck 4-wheel drive
- Electric motor 550 with high torque
- Waterproof and water resistant servo drive
- Maverick 2.4Ghz radio with waterproof receiver
- USB charger included (2A input recommended)
- 7.2V 1800mAh NiMh battery
- Gear cover to remove gear debris
- Front and rear differentials
- Entirely on ball bearings
- Independent dual triangulation suspension
- Oil shock absorbers
- Two-point cross reference steering system
- Independent servo saver
- Pre-cut body painted and decorated
- Moulded tub frame with optimized weight distribution
Includes:
- Ni-Mh 7.2V 1800mAh Battery
- USB battery charger

Specifications:
Length: 415 mm
Width: 325 mm
Height: 175 mm
Wheelbase: 298 mm
Weight: 1.75 kg

Required Items:
- 4 AA batteries